Steve Bannon, ex direttore del sito giornalistico di estrema destra Breitbart News ed ex stratega di Donald Trump, ha lanciato The Movement.
The Movement è la risposta alla Open Society di George Soros, che dal 1984 finanzia battaglie culturali e civili e che Bannon ha definito "un male, ma un'idea brillante". L'obiettivo di The Movement è essere la casa di tutti i sovranisti al mondo. Primo passo: riunire i sovranisti europei in vista delle elezioni del Parlamento europeo del 2019.
Dopo essere stato sollevato dal ruolo di stratega ed essere stato allontanato da Breitbart News, in seguito alle rivelazioni del libro scandalo Fire and fury in cui lui criticava Ivanka Trump e suo marito Jared Kushner, Bannon ha deciso di rilanciarsi in Europa.
Tra i fondatori del movimento ch'è anche Mischaël Modrikamen, leader del Partito popolare belga. L'organizzazione euroscettica dovrebbe avere sede a Bruxelles. 
Gli obiettivi di The Movement
The Movement "è una libera associazione, un club. Spingeremo per formare un gruppo unico populista al Parlamento Europeo", ha spiegato Bannon in un'intervista al Messaggero. "Conta di più che i leader populisti, indipendentemente dai partiti, si incontrino prima dei Vertici europei per prendere posizioni comuni".
L'obiettivo è influenzare e appoggiare il nazionalismo in opposizione all'internazionalismo.
Il suo progetto è "portare tutti i populisti sotto lo stesso tetto: dall'Europa agli Stati Uniti al Sud America, Israele, India, Pakistan, Giappone, per rappresentare la gente comune ovunque sia guardata dall'alto in basso e abbandonata dalle élites. Il primo obiettivo, la pietra miliare, è acquisire una leva alle Europee". Quindi nel mirino c'è riunire fino a un terzo di tutti i 751 deputati al Parlamento europeo.
Bannon vuole minare la "resistenza" di Macron e Merkel. "I populisti sono già al potere in Italia, Finlandia, Danimarca, Austria, nei quattro di Visegrad. Quella di Macron e Merkel è sempre più una visione minoritaria. Il potere di Angela è quasi collassato due mesi fa" e "Macron nei sondaggi è messo male com'era Hollande". Visualizza l'immagine su Twitter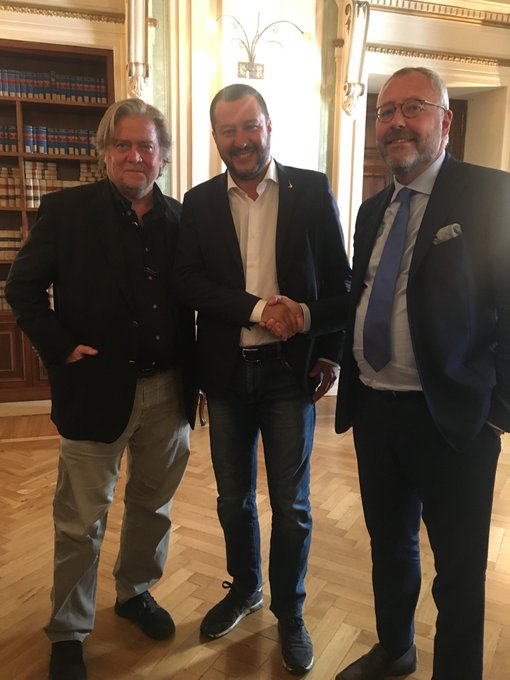 The Movement in Italia
Matteo Salvini ha incontrato Steve Bannon il 7 settembre a Roma per aderire a The Movement.
Anche Giorgia Meloni, la leader dei Fratelli d'Italia, ha in programma di prenderne parte: l'adesione ufficiale potrebbe avvenire ad Atreju, tradizionale raduno del partito di centrodestra all'Isola Tiberina a Roma, previsto dal 21 al 23 settembre.
Bannon abbraccia l'adesione di Salvini, che definisce "un leader globale, oggi l'Italia è il centro politico perché è un laboratorio". Vede di buon occhio l'unione di governo tra Lega e Movimento 5 Stelle: "In Italia due partiti guidati da due giovani con grandi idee, Salvini e Di Maio, usano le tecnologie moderne in modo dinamico e hanno rottamato i vecchi politici di nord, sud, destra e sinistra, avendo tutti contro. Nessuno sa dove va questo esperimento, però mi impressiona il coraggio politico. Per stare insieme hanno rinunciato alle proposte più glamour". E profetizza: è "un momento della Storia di cui si parlerà per cent'anni".
---
---
Categorie:Uncategorized